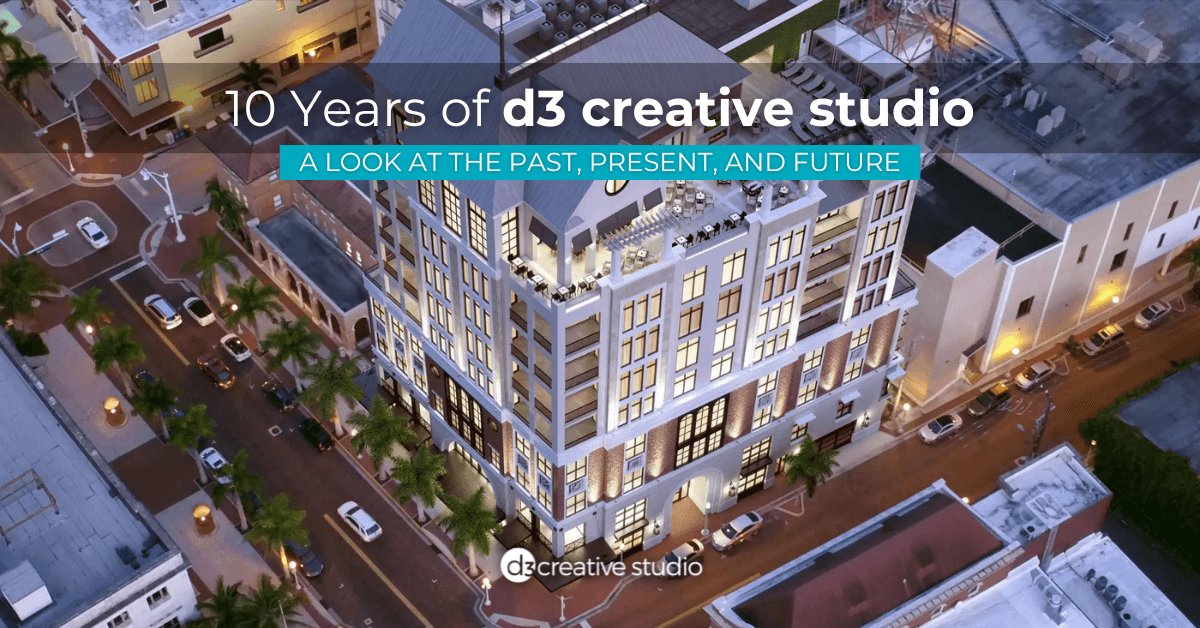 10 Years of d3 creative studio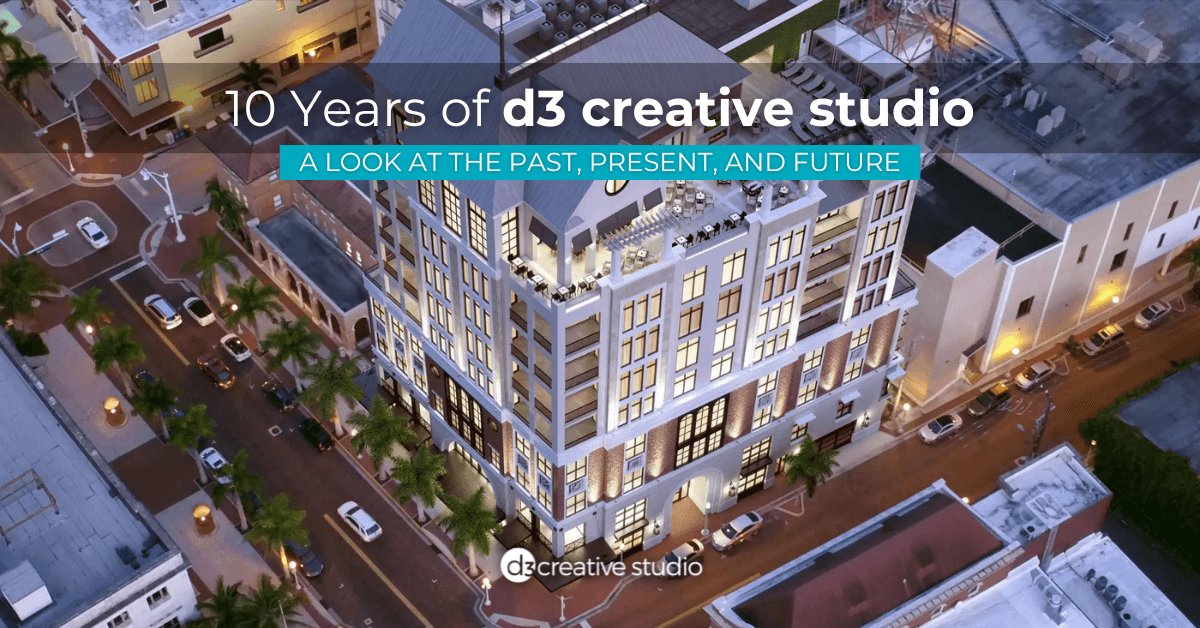 A Look at the Past, Present, and Future
To celebrate our 10-year anniversary, we're highlighting ten projects that have shaped d3's development and discussing trends we are currently observing and what we see in store for the future of visualization.
Past
10. Babcock Ranch
Impact: First Rendering and Animations, BIA Award Winner for Best Presentation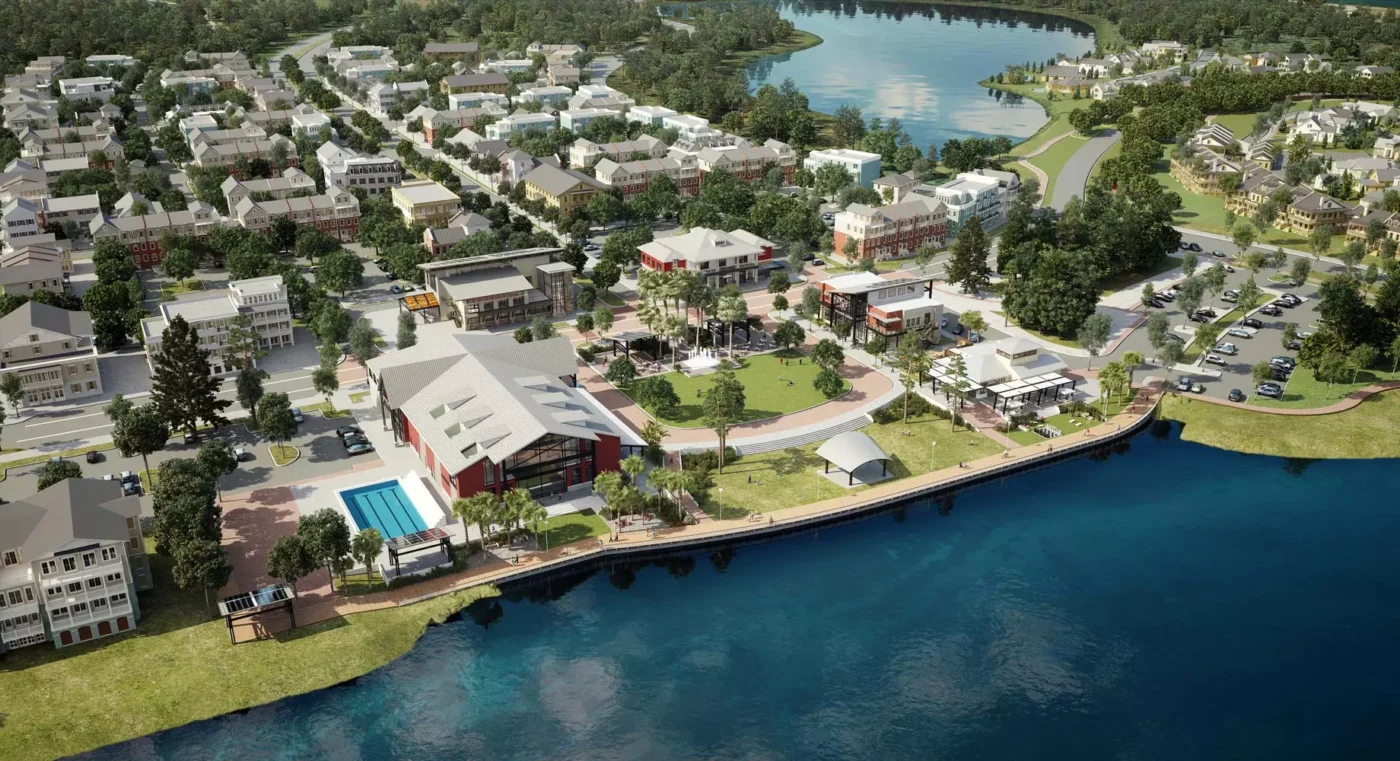 Babcock Ranch is America's first solar-powered city and innovative new town that sets a whole new standard for sustainable, responsible growth. Our team helped bring this sustainable city to life before construction began with a virtual animation showcasing the unique community, photorealistic renderings highlighting the old Florida lifestyle, and an augmented reality model that brings the Town Center to life.
9. IMAG Fort VR + IMAG Miromar
Impact: First Historical Recreation for d3 – Circa 1853 Fort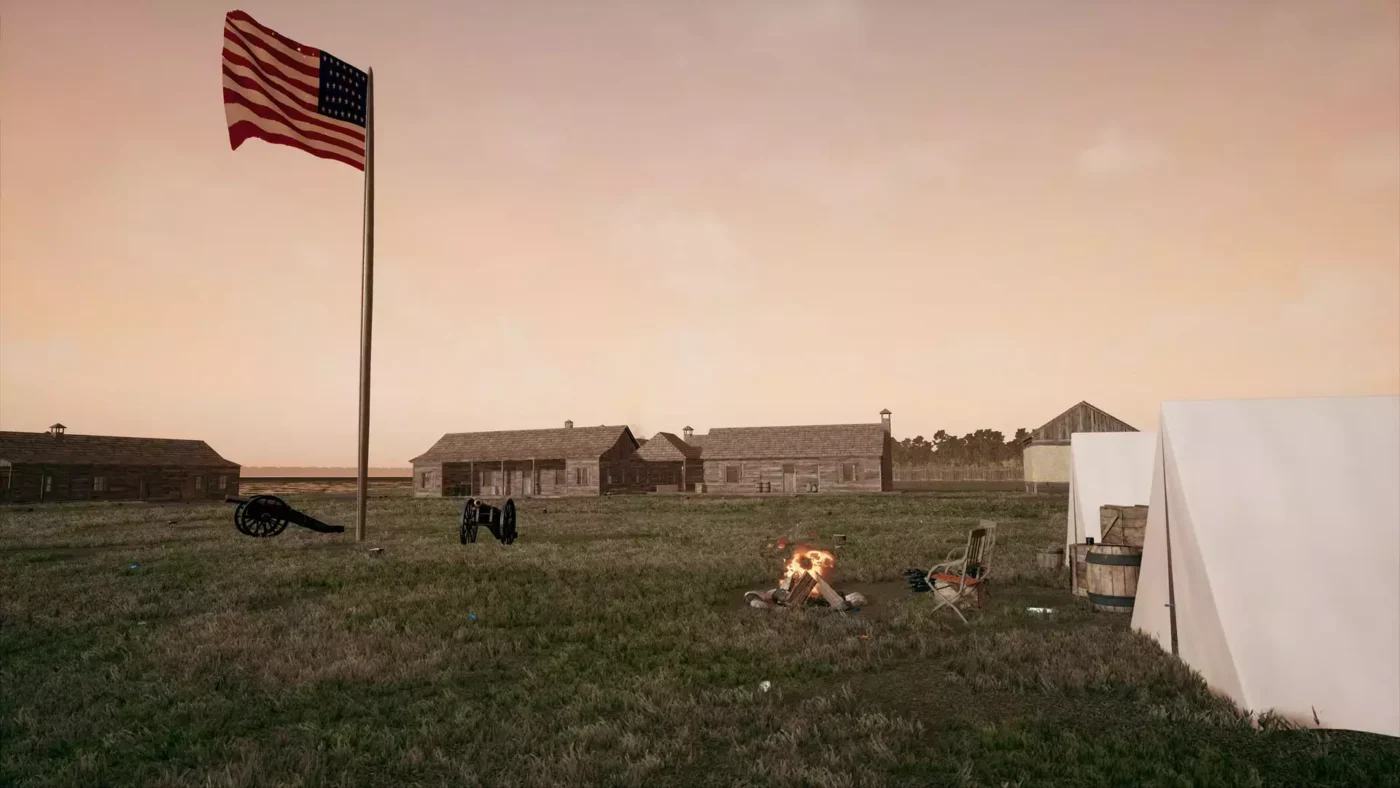 In 2017, we installed a virtual reality experience at IMAG History & Science Center in Downtown Fort Myers. Utilizing the latest in VR technology, we created a virtual world where visitors could learn more about the story of Fort Myers. Visitors can strap on an Oculus Rift headset and travel back in time and visit the U.S. Army fort that gave the City of Fort Myers its name. The exhibit lets visitors move around the old fort and its various buildings. You can even touch things and interact with the virtual world.
View More of IMAG Fort VR + IMAG Miromar
8. Gladden Caye
Impact: First Work Published on Network TV (HGTV)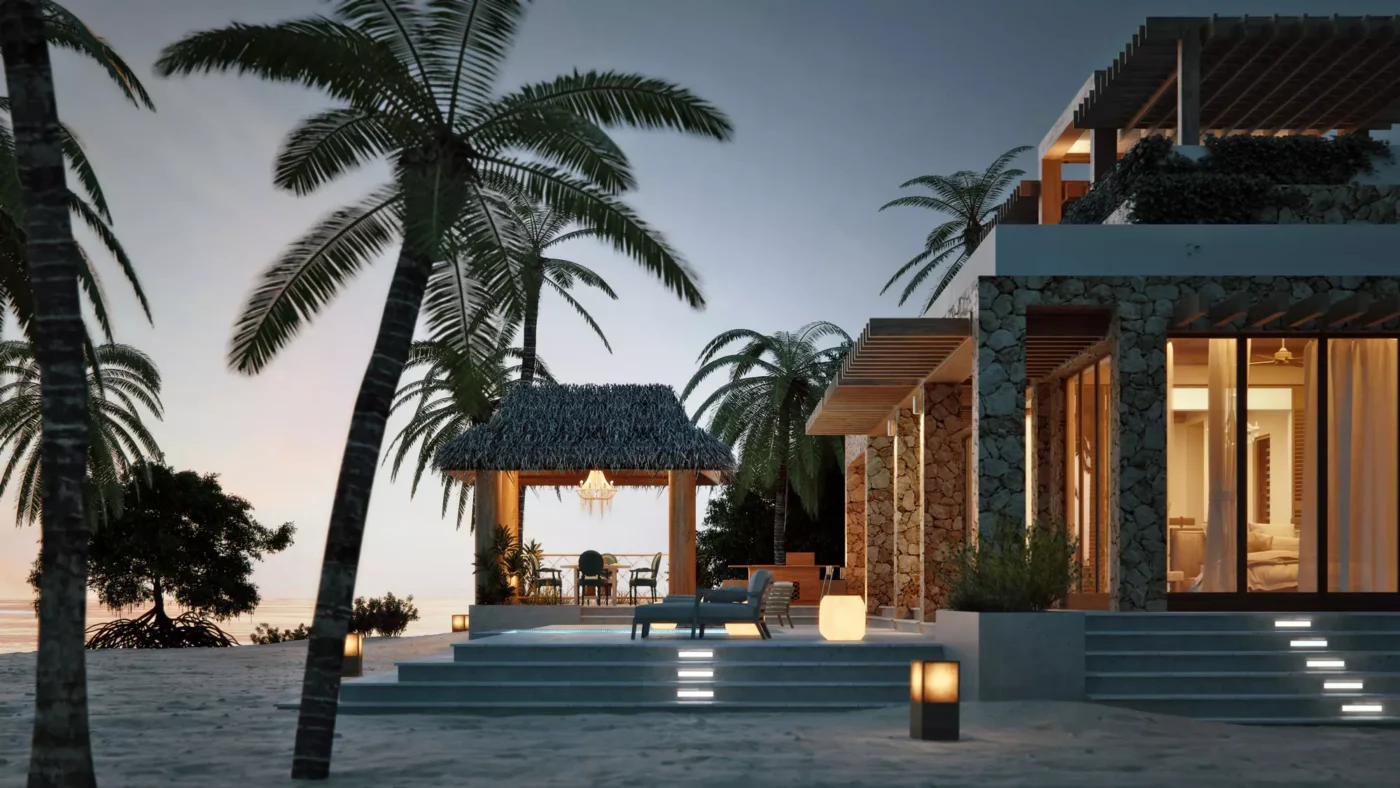 Gladden Caye, known as "The World's Most Private Island" was featured on HGTV's Island Hunters hosted by Chris Krolow. Visitors can experience the ultimate in privacy and luxury on Gladden Private Island where you can book the entire island for just one or two couples. To highlight the luxury, privacy, and stunning location of this amazing property, we completed several photorealistic renderings showcasing interior and exterior views of the Mayan-style villa and aerial views of the island and the surrounding Belize Barrier Reef.
7. America at Home Study
Impact: Reimagining Home Design During and After the COVID-19 Pandemic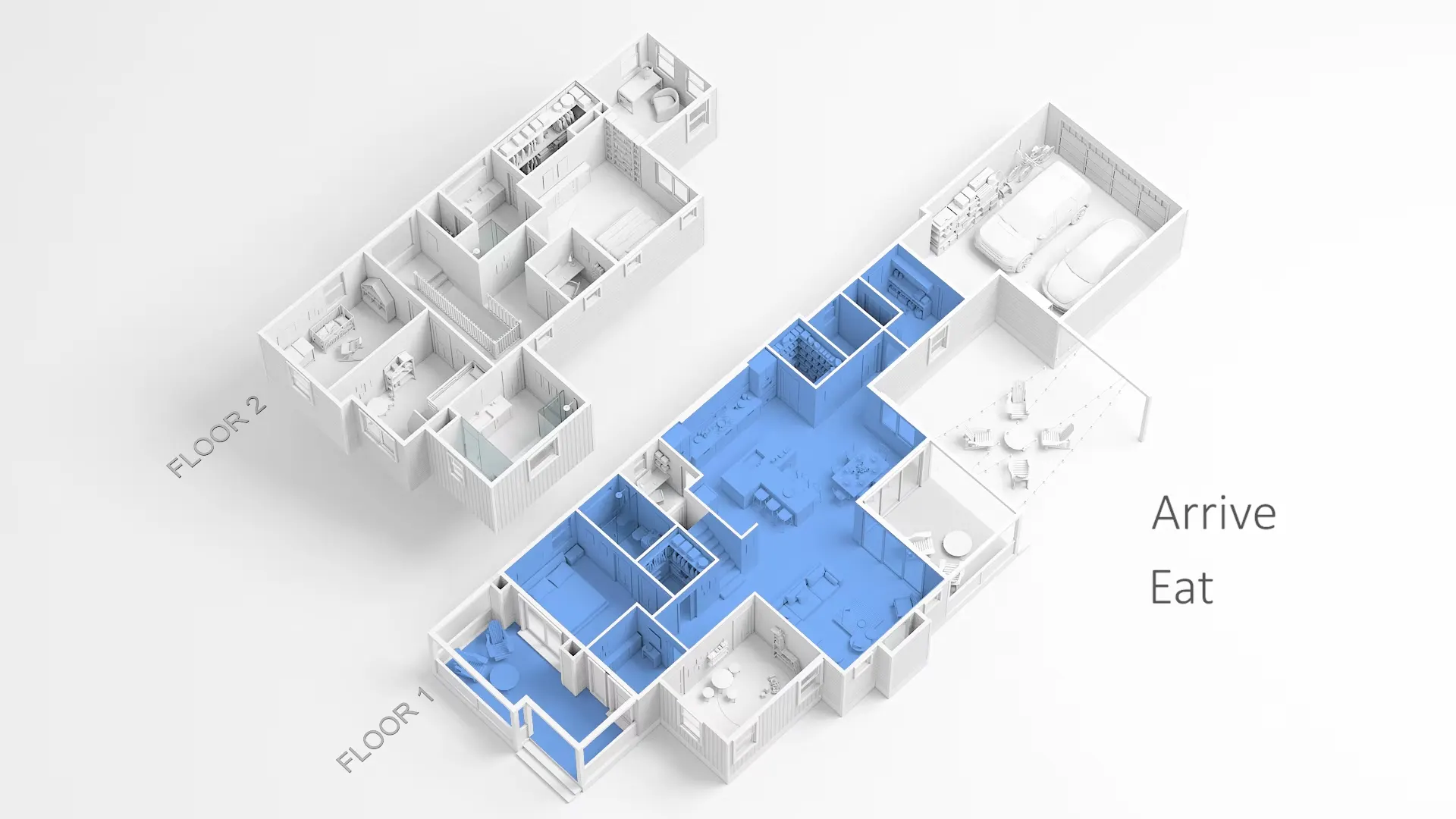 During the challenging times of the COVID-19 pandemic, our team at d3 stepped in as the technology solutions provider for the America at Home Study, aiding them in creating a visualization to communicate their concept. Recognizing the importance of remote collaboration and effective communication, we leveraged our expertise in virtual collaboration tools and data visualization to create an impactful visual representation. Despite the constraints of the pandemic, our timely and innovative technological solutions allowed the America at Home Study team to effectively convey their concept and research findings to a wider audience, fostering understanding and engagement during those unprecedented times.
View More of America at Home Study
6. The Place on First
Impact: First AR Project That Went Viral + First Interactive Kiosk Launched Including VR Support
The Place on First is the first true mixed-use building to be constructed in downtown Fort Myers. To demonstrate the building's design which blends historical references with modern elements, our team created a virtual animation and numerous photorealistic renderings showcasing the chic urban lifestyle as well as 360 renderings of each residential unit. We also introduced an interactive touch experience that allows buyers to see the view of the city from the 9th floor, change selection options, and take a virtual reality tour of their new home. Through our own Inspir3d app, we used augmented reality to bring this project to life anywhere, anytime with your smartphone or mobile device.
View More of The Place on First
5. Golisano Children's Hospital
Impact: First Immersive Chemotherapy Room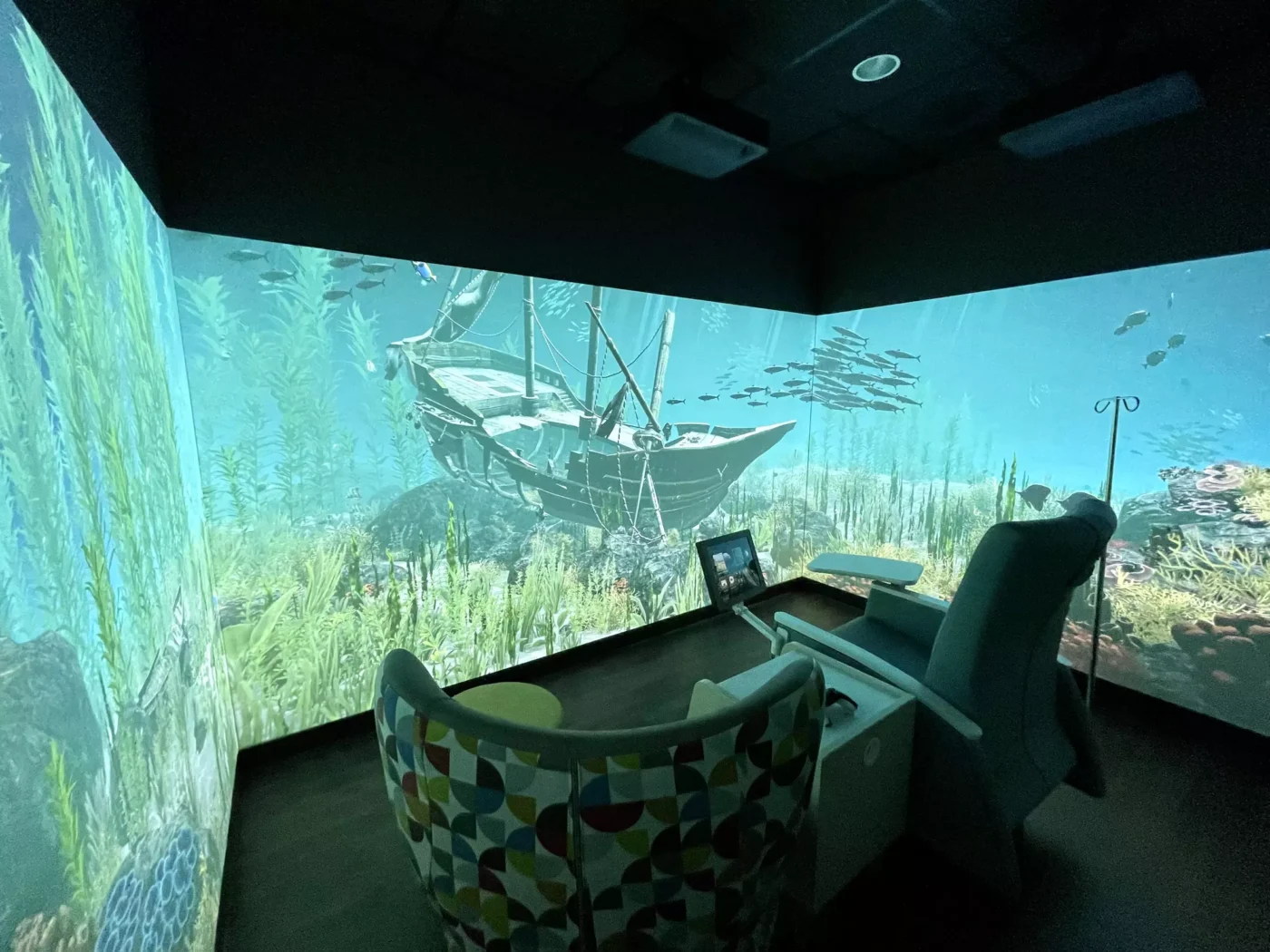 We're grateful to have worked with Lee Health on the implementation of the hospital's first immersive room. We're helping kids be kids at a time when they need it the most, by allowing them to escape reality, connect with friends and family, and pass the time playing video games or watching movies on a giant virtual screen. It's been our goal to transport patients to new destinations –to a white sandy beach, to a shipwreck on a coral reef, or even to a galaxy far far away, and we've been able to do that with this immersive chemotherapy room.
View More of Golisano Children's Hospital
4. Walsh Ranch
Impact: Largest AR Experience of its Kind in 2017 (30′ x 50′)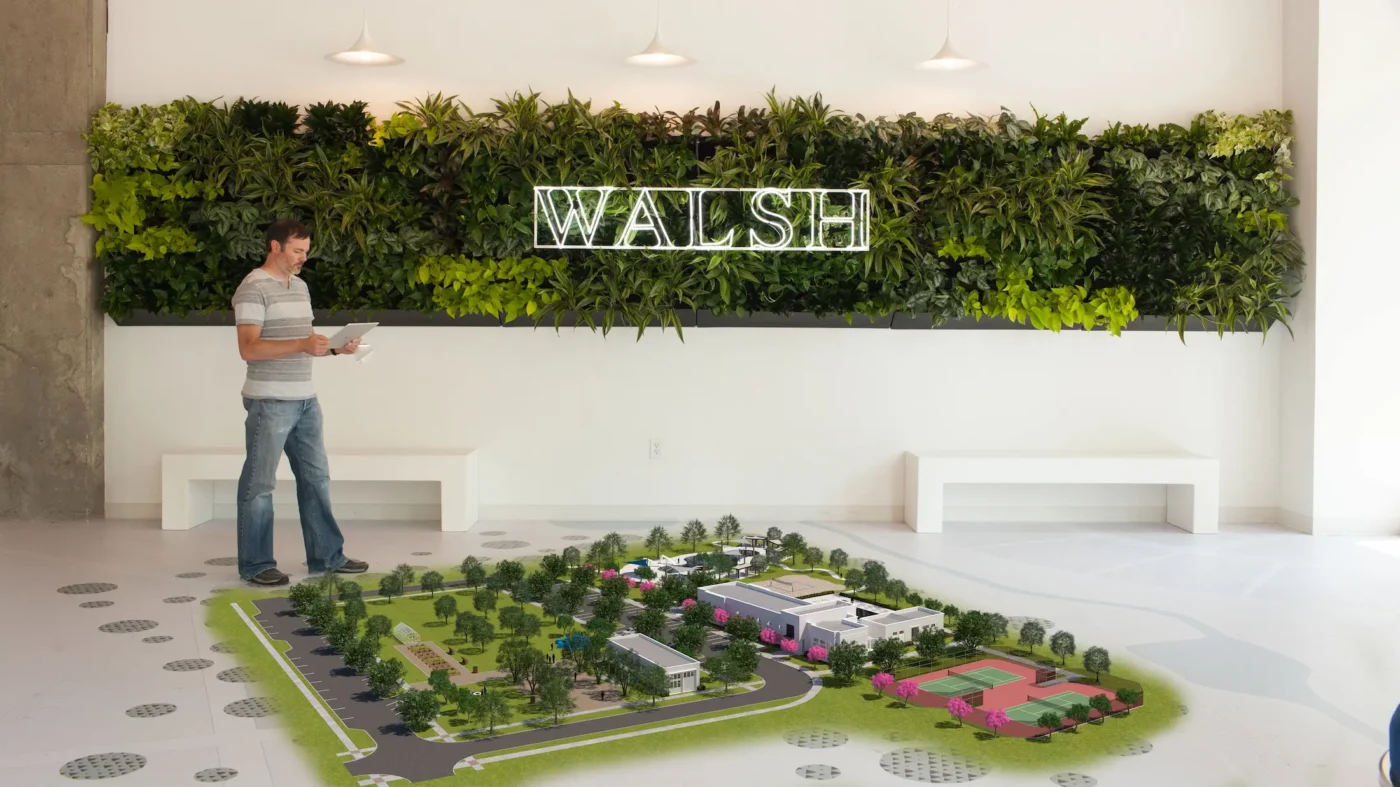 Walsh Ranch is Fort Worth's Next Great Neighborhood, with residents having the best of both worlds–nature and tech–with ample opportunity to be immersed in and learn about both. To convey the lifestyle of this unique community, we completed a large-scale (30′ x 50′) augmented reality model for their sales center floor which highlights the many amenities of the community complete with hotspots that call out each of the preferred home builders and their model homes. The striking photorealistic renderings focus on both the tech features like the maker space and co-working space as well as the natural elements of the neighborhood like the many parks and playgrounds.
3. Wellen Park
Impact: Animations, Renderings, and Wander at Wellen – Our First Location-Based AR Experience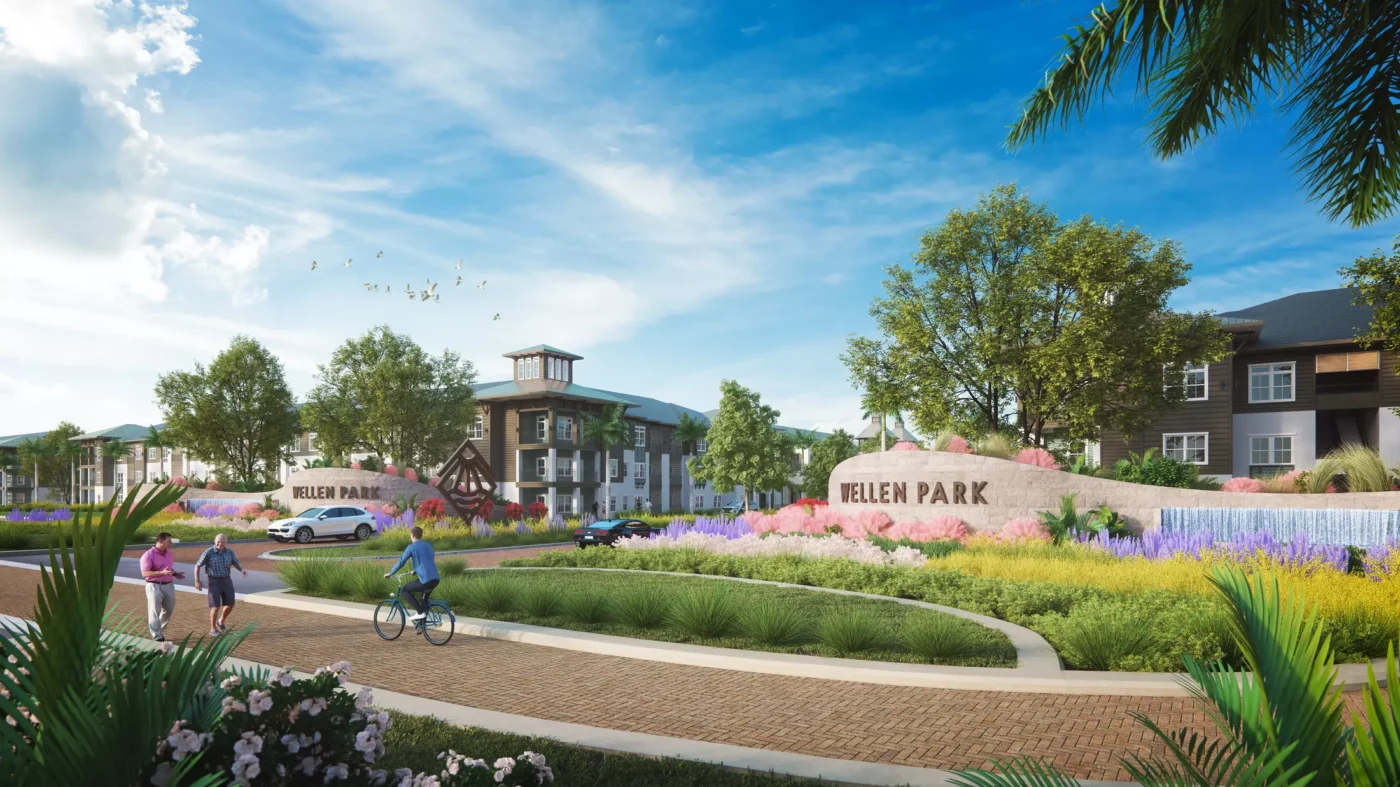 Wellen Park is a vibrant and rapidly growing master-planned community located in Sarasota County, Florida. It encompasses over 10,000 acres of land and offers a diverse range of residential neighborhoods, recreational amenities, and commercial spaces. With its emphasis on sustainable living, beautiful natural surroundings, and convenient access to amenities, Wellen Park provides a desirable lifestyle for residents of all ages.
2. MorningStar Senior Living
Impact: Web-Based Interactive Sales Center, Animation, and Renderings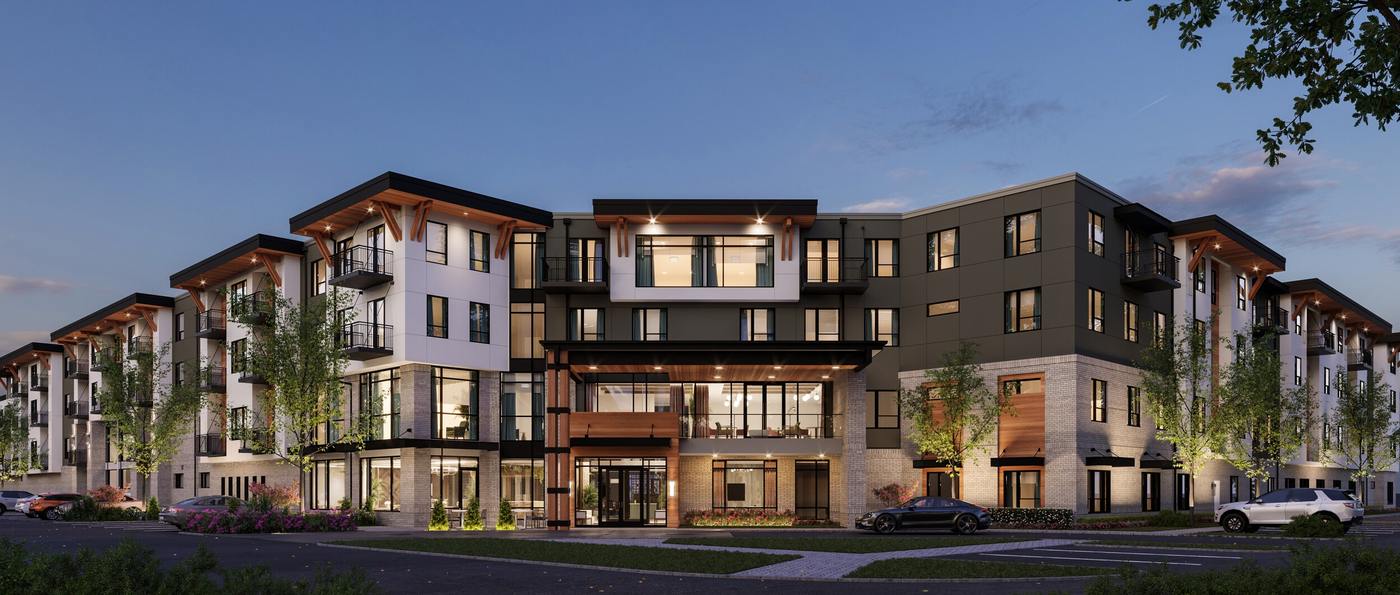 MorningStar Senior Living is a compassionate senior living community dedicated to providing exceptional care and support for older adults. With various locations across the country, MorningStar offers a range of services including assisted living, memory care, and respite care. Their knowledgeable and caring staff create a warm and welcoming environment, ensuring residents receive personalized attention and enjoy a fulfilling lifestyle enriched with engaging activities, delicious dining options, and comfortable accommodations. Our team created a web-based interactive sales center, animation, floor plans, and photorealistic renderings to convey a sense of belonging for seniors in a nurturing and secure environment.
View More of MorningStar Senior Living
1. J | One
Impact: First International Project for d3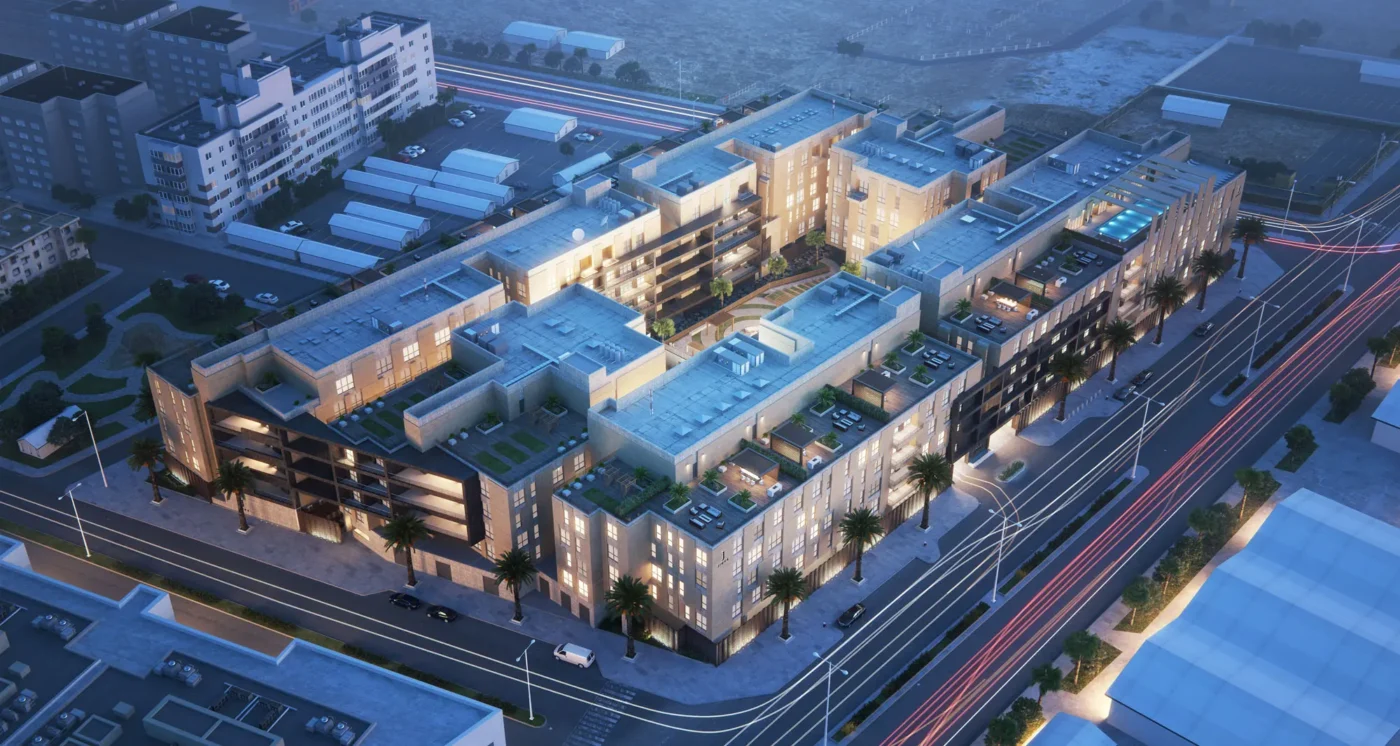 One of the largest and most ambitious residential developments in Jeddah, J|One offers a refreshing and new approach to contemporary living. Be a part of a futuristic communal living space that's designed to provide the very optimum living experience that's in sync and perfectly integrated with the environment. We provided several interior and exterior photorealistic renderings that showcase the many layouts and amenities within the development. We also created a virtual animation and a VR walkthrough to give residents a realistic tour of their new home and living spaces.
---
Present
Rendering and visualization technology is being used in various creative ways within the real estate industry today. Take a look at some of the ways we've noticed it being utilized first hand:
1. A developer uses 3D renderings to create a virtual tour of a new apartment complex. This allows potential tenants to see the complex from every angle and get a feel for the space before they even visit in person.
2. A home builder uses VR technology to let potential buyers experience a new home before it's built. This allows buyers to see how the home will look and feel, and to make changes to the design before construction begins.
3. A city planner uses 3D renderings to show how a new development will impact the surrounding area. This helps planners to get community feedback and to make sure that the development is compatible with the surrounding environment.
4. Immersive experiences. Immersive experiences, such as VR and augmented reality (AR), are becoming increasingly popular in real estate marketing. These technologies allow potential buyers to experience a property as if they were actually there.
These are just a few examples of the many ways that rendering and visualization technology is being used in the real estate industry. As this technology continues to evolve, we believe that it will play an even greater role in the future of real estate development, home building, and master planned communities.
---
Future
The rendering and visualization industry is rapidly evolving, and this is especially true in the field of real estate development, home building, and master planned communities. Here are some of the trends that we see shaping the future of this industry:
1. The increasing use of 3D and VR technology: 3D and VR technology is becoming increasingly affordable and accessible, making it a more viable option for real estate developers and home builders. This technology allows potential buyers to experience a property as if they were actually there, which can help them make more informed decisions.
2. The rise of augmented reality (AR): AR technology is still in its early stages, but it has the potential to revolutionize the way we interact with real estate. AR apps can overlay digital information onto the real world, giving users a more immersive experience. For example, the AR experience created for Wellen Park, 'Wander at Wellen,' leverages the power of AR to blend digital and reality. This experience brings areas throughout downtown to life, enhances sightseeing, and tells stories about the area.
3. The growing importance of sustainability: Sustainability is becoming increasingly important to homebuyers, and rendering and visualization technology can help developers and builders communicate their sustainability efforts. For example, developers can use 3D renderings to show how their projects will conserve energy and water.
4. The demand for personalized experiences: Buyers are increasingly looking for personalized experiences when they're shopping for real estate. Rendering and visualization technology can help developers and builders create customized experiences for each buyer. For example, a developer could create a 3D rendering of a home that's tailored to the specific needs and preferences of a potential buyer.
5. The use of rendering and visualization to improve communication and collaboration. Rendering and visualization can be used to communicate complex ideas and concepts to clients, architects, and other stakeholders. This can help to improve communication and collaboration, and it can also help to avoid costly mistakes.
Overall, we believe that the rendering and visualization industry is poised for significant growth in the years to come. This technology has the potential to revolutionize the way we interact with real estate, and we're excited to see how it's used in the future.
---
About d3 creative studio
d3 creative studio specializes in creating virtual reality, real-time 3D visualization, and interactive solutions for the architectural and real estate development industries.
Our goal is to make every project we complete a new centerpiece for our portfolio; showcasing your project and our skills as a 3D studio.
Not in architecture? We create solutions far beyond home building. Let us take your project to new heights. Contact us today to learn more.